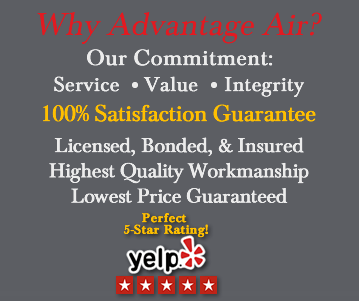 - -Advantage Air specializes in residential heating, ventilation, and air conditioning services. These services include new installation, diagnostic, repair, and on-going system maintenance. The Advantage Air team members strive to provide our customers with the finest experience in home comfort. 
​
   Our product knowledge and expertise, combined with a company culture committed to service, value, and integrity, is how we assure our clients the peace of mind they deserve. With systems highest in quality and efficiency, offered at the guaranteed lowest price, Advantage Air offers a win-win scenario for our customers. 
​
   Advantage Air proudly services Long Beach, the South Bay, Los Angeles County, and parts of North Orange County. We are actively involved in many southland communities and provide special offers to seniors, students, teachers, and military personnel. At Advantage Air, it is our pleasure to service and attend to your family's home comfort needs.
- -Advantage Air team members invite new prospective customers to "experience Advantage" by visiting our review portal below. Please click any of the listed links, and see what our clients are saying about their service experience. 
​
   Find out first hand why Advantage Air is the #1 HVAC service provider in Southern California. Thank you for considering Advantage Air! 
Customer Review Links (Click below)